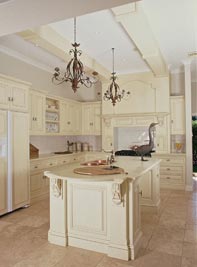 About Us
Situated in the beautiful Southern Highlands of NSW, just 90 minutes southwest of Sydney, The Hand Paint Studio is a family business established over a decade ago by Lisa and Wilbur McLean. Utilising their many years of experience, HPS has worked with countless designers, cabinet makers, architects and private clients to help them achieve their own expression of individuality. HPS creates a limitless range of stunning hand painted kitchen and cabinetry finishes from English country and French provincial, to crisp contemporary. Whether utilising traditional brushstrokes and using one colour, to adding a second or third glaze to add depth and patina, the end result is sure to be spectacular.
"It was great dealing with someone who was passionate about their product and a people person who listened to the customer and made them feel valued."
Linda
'Our unique handpaint system not only combines the appearance you want with the very latest scientific techniques but it has finally solved forever the problems of yellowing, fading, and water penetration previously experienced with handpainted finishes, making it highly durable and extremely easy to maintain.
"Our goal is to provide our clients with a handpainted feel and look, with modern hard-wearing durability, which means the kitchen will still look good in ten years time"' says Lisa McLean of The Hand Paint Studio.
Choose from the many standard hand painted kitchen and furniture finishes, or consult with one of the HPS experts to develop a finish to match your personal needs. Make an online enquiry or phone 4872 1084.